Many facilities require that their coaching staff perform pre-session safety and cleaning checks. This is particularly pertinent in the shadow of the COVID-19 pandemic.
Quoox provides a verification process as part of roll-call, whereby the coach can be prompted to verify that they have completed all necessary checks.  The activity is logged for audit purposes, and can be output as part of the Cleaning Log report.
It is also possible to record member contact tracing data as part of roll-call, as outlined here.
Confirming the pre-session checks
If enabled, the pre-session check dialog will appear as the first page of the Roll-Call, as below: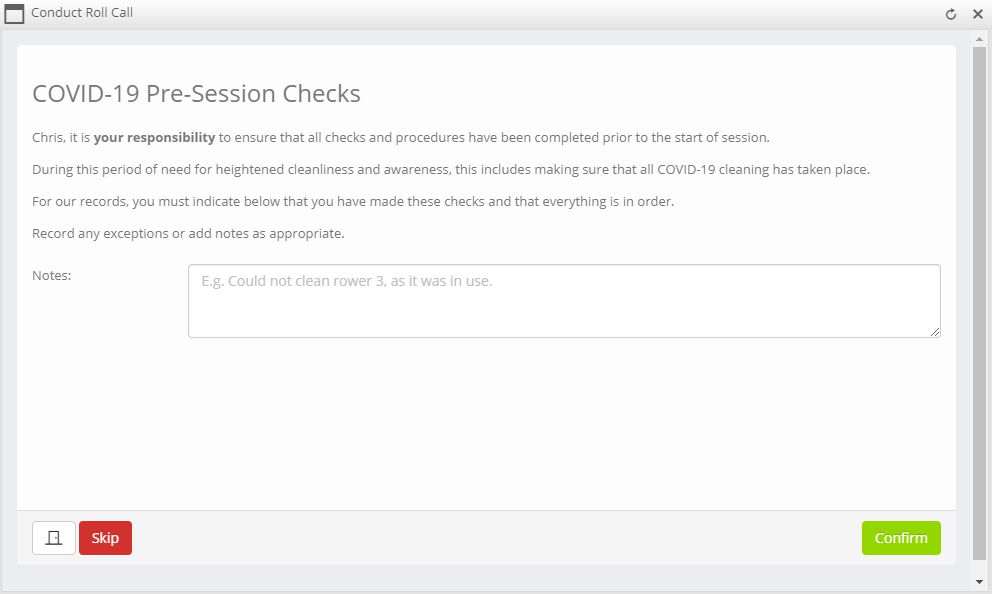 Note: The pre-session checks only appear if the session starts within the next hour (or has passed), and the check has not yet been marked as "confirmed".
Some introductory narrative is displayed, which each facility may tailor for their own purposes (see below).
The coach may optionally enter notes and then click a button:
Skip – this will record the notes and add an entry to the cleaning log, but the check will 

not

be marked as completed.
Confirm – this will record the notes and add an entry to the cleaning log, as well as marking the pre-session checks as having been completed.
In both cases the cleaning log record is time-stamped for audit and compliance purposes. The "actioning user" is set as being the user who conducted the roll-call.
Customising the pre-session check narrative
It is possible for each facility to customise the pre-session check narrative to suit their own purposes. This might include a more verbose summary of the checks that the coach must be undertaking, and that they are confirming they have completed.
The template can be amended in Settings > System Templates, and is called "Business: The narrative displayed in roll-call for a pre-session check".