In response to the COVID-19 pandemic, and in preparation for likely requirements from various governments and authorities, it is possible to record the body temperature of your members (and any symptom notes) as part of the roll-call check-in.
To record these details, roll-call is conducted in the regular manner.  For each attendee, additional record fields will be displayed, as below.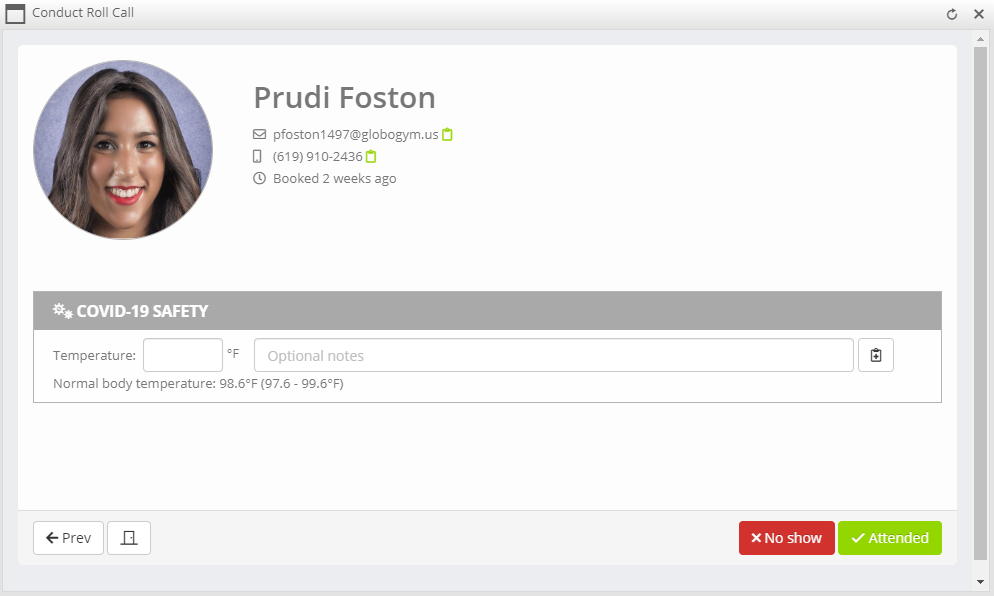 To record temperature and notes, the data is simply added to the form, and then saved when the No Show; Attended; Prev; or Next buttons are pressed.
Clicking the button will launch official COVID symptom and handling guidance, relevant to your country.
Reporting and Export
The temperature and symptom notes fields have been added to the list export function provided within the bookings screen (found under "More actions"). If there is a requirement for it, further reporting will be added to the main Quoox reporting area.
Feature transience
This feature is likely to only be required for a (relatively) short period. Once the COVID pandemic has subsided, we shall disable this feature from the Quoox system.