The Cleaning Log provides an easy way of recording cleaning activities at your facility, and to be able to report on them for compliancy purposes.
The logging functionality has been deliberately designed not to be overly prescriptive, as every facility will wish/need to operate in a slightly different manner.
Recording a cleaning activity
The Cleaning Log is launched from the main dashboard, by clicking the Cleaning Log button next to the venue selector.

The popup cleaning log entry form will appear: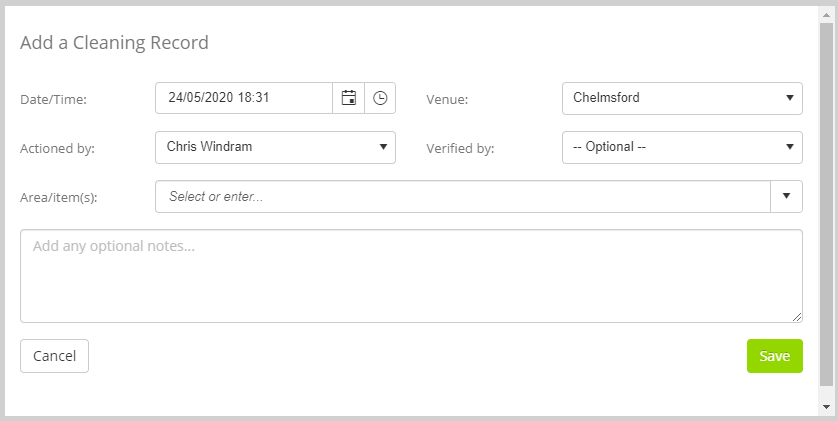 The form will be pre-filled with the current date/time; the selected venue; and the logged in user set as the "actioned by" user. All of these can be overridden, as necessary.
The data collected comprises:
Date/Time – the date and time at which the cleaning activity was performed
Venue – the venue at which the activity was performed
Actioned by  – the user that undertook the cleaning activity
Verified by (optional) – a user that verified that the cleaning had been completed satisfactorily
Area/Item(s) – the area or equipment items that were cleaned
You may select a previously used item from the list or, if the area/item you need is not listed you can add it to the list by typing in the box. It will be added to the list for easy selection next time around.
Notes (optional) – any notes that you wish to add against the record.
Clicking Save will record the cleaning action and close the popup.
Adding areas/items
You can either i) add areas/items to the cleaning item list as you record your cleaning activities, or ii) pre-create your areas/items within Settings > Lists and Groups > Cleaning areas/items.
Within the Lists and Groups area you can also rename or delete any list items that you wish.