Fitflix is a video on-demand channel within the Quoox mobile app, tailored to your member's needs.  In a nutshell, it is the video equivalent of the Quoox document library – and an incredibly important tool for providing a full wellness solution to your members.
Usage notes
Whilst you may use Fitflix for uploading generic exercise videos, it is worth considering using XRcize as this gives you and your members much more depth to their on-demand workouts.
It is possible to place small/short (<10Mb) videos within member documents, but we recommend they instead be added to Fitflix.  This is because Fitflix uses Quoox's video streaming technologies to ensure that videos are delivered to mobile devices in an efficient and appropriate manner.
Videos of up to 80Mb may be uploaded directly into Quoox.  Larger videos may be uploaded using either YouTube or Vimeo as an intermediary.
The Fitflix Library
The Fitflix Library is accessed by selecting Fitflix Video Library from the Libraries option on the main navigation menu.
The library features a custom folder structure, which you may create as you wish (similar to your own document library).
Clicking on a given folder name (or clicking the icon) will open the folder.
Icons are provided for:
– Open the folder
– Edit the folder or video
– View the video
– Assign/share the video/folder with members
– Delete the folder/video
Clicking Add Folder will start the new folder process (see below). Clicking Upload Video will take you to the video upload form.
Adding or editing a folder
To add a folder, click the Add Folder button.

Provide a name for the folder and, optionally, provide a description for the folder.  The folder description is for internal use only, and not shown to the member.
Click to save you folder/change, or to cancel.
To edit an existing folder, click the icon next to the folder of interest.
Deleting a video or folder
To delete a video or folder, click the corresponding icon.
After confirmation the video/folder will be deleted. In the case of a folder, all sub-folders and videos will also be deleted.
Adding or editing a video
To add a new video click the Upload Video button.  The add/edit video page will be displayed.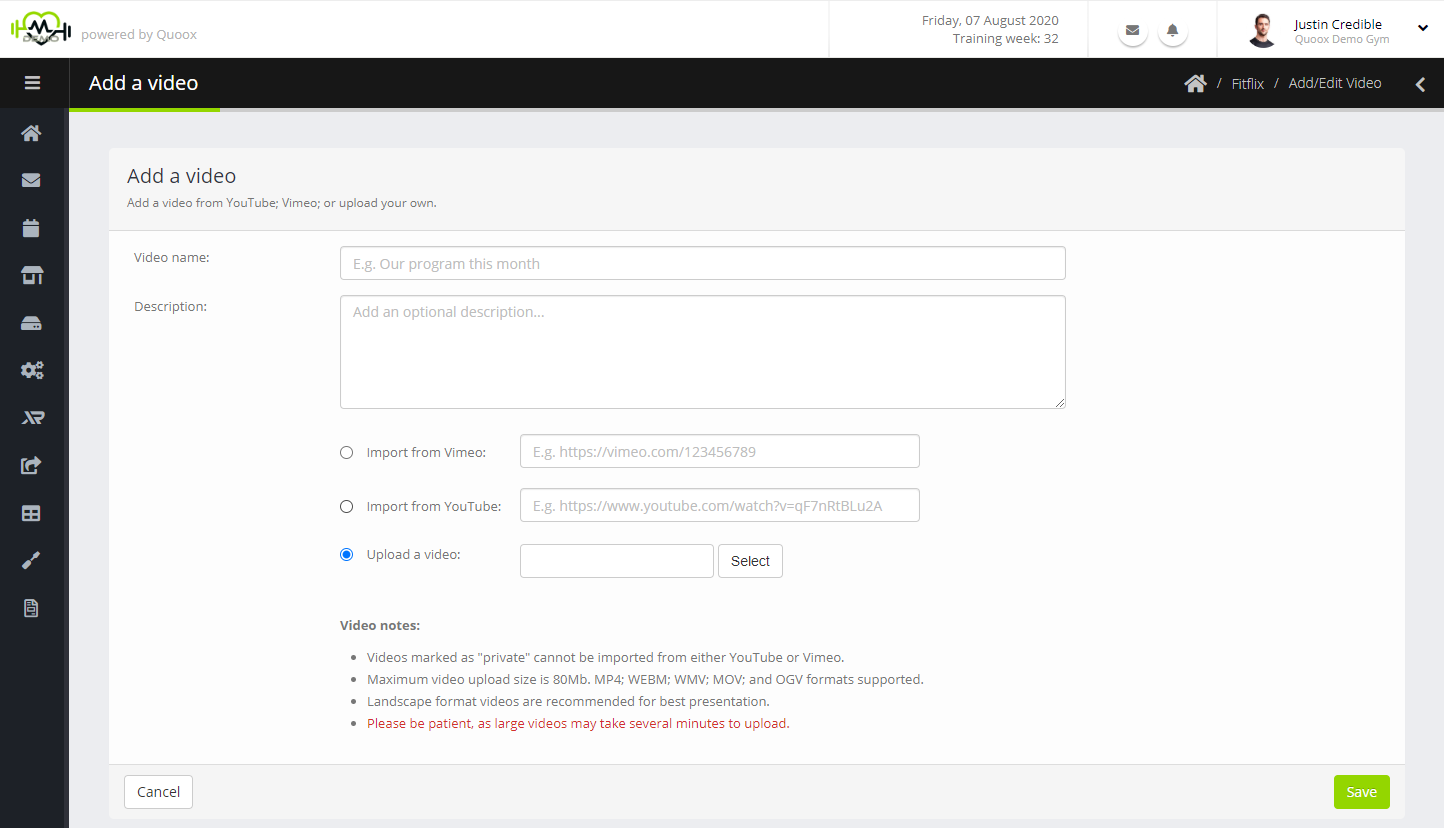 You must provide:
Video name – the name that you wish to call your video, and as displayed to members
Description – an optional description for the video. When provided, this is displayed to members
Video source – upload a video from your computer (up to 80Mb), or provide a YouTube or Vimeo URL/link
Videos larger than 80Mb may be uploaded to the Fitflix library using either YouTube or Vimeo as an intermediary.
Note: It may take several minutes for large videos to upload. Videos are processed in the background, and the processing status is displayed alongside the video.
When editing an existing video, an additional source option of Do not update the current video is displayed. This selection allows you to update the name and description without changing the video. Alternatively you may provide a new video upload, which will replace the current one.
Status "Failed":  If the status "(failed)" displays against your video, this typically means that YouTube/Vimeo denied import of the video, or that the video could not be converted by Quoox for deployment to mobile devices.  Check that the video is publicly accessible on YouTube/Vimeo.  Quoox cannot import videos marked as "private" or with DRM (digital rights management) flags set against them, as this would violate copyright law.
Viewing a video
You may view a video from your library within the Quoox portal by clicking the corresponding icon.
This will open the video view page, and will playback your video.
Assigning/Sharing a video with members
You may assign or share a video with your members by clicking the corresponding icon against a folder or video. This will open the share dialog, similar to that for the document library.
In the provide access for box you may enter an individual member(s); a member group(s); and/or a membership(s). Access for those entities provided is added to permissions already in place.
Note: When sharing a folder, you are share the content of all sub-folders and videos within that folder – even when added subsequently.
To revoke access for all members to the video/folder, click the Revoke Access button.
Sharing a video as part of a nurturing sequence
You can add a Fitflix video(s) to any member nurturing sequence. Learn more
Due to changes to YouTube's terms & conditions, we are no longer able to offer the ability to import videos from YouTube.