What is MZ-Remote+?
MZ-Remote+ is an offering from Myzone that builds further on their excellent MZ-Remote product.
MZ-Remote provides the ability for facilities to use the Myzone belts and live board for live and on-demand sessions.  MZ-Remote+ avails to facilities a wealth of high quality, effective, live and on-demand sessions delivered by Myzone coaches and affiliates.
Many facility members have enjoyed the benefits and convenience of at-home/on-demand sessions during COVID, and the future of the modern training gym is, without doubt, a hybrid model.  MZ-Remote+ provides a superb method for facilities to supplement their online offering, and to even create new products with little-to-no effort.
Myzone customers pay fixed monthly fee for access to all of the sessions, which they may then make available to their members (and monetise) as they wish.
As an official Myzone Partner, Quoox includes full Myzone integration for all mutual customers.
To learn more about Myzone, or to add MZ-Remote+ to your account, please contact Myzone.  We would be delighted to make an introduction, if you would prefer.
How are MZ-Remote+ sessions accessed?
MZ-Remote+ sessions are booked and accessed via the Myzone app.  The sessions that are made available, and the members to whom they are accessible, may all be controlled from within Quoox.  Members may access the sessions through "Book a Class" > "Timetable" in the Myzone app.
MZ-Remote+ sessions are not presently bookable or accessible via Quoox/FitnessHub as the content resides outside of the Quoox system, but methods by which this might be directly offered via the Quoox app and FitnessHub are being explored for the longer-term future.
Integrating Myzone with Quoox
If you have not already done so, you will need to integrate your Myzone account with Quoox to be able to use the Quoox Myzone functions.
This is a very simple process, and only takes a couple of minutes.  Full instructions may be found here.
For integration with Myzone Remote+ you will need to configure Myzone integration types 1 and 2 (as documented), and complete the appropriate privacy agreement (level 4 for the UK and Europe, level 2 for other countries)
Note: Quoox links to one Myzone facility per Quoox account.  Multiple Myzone facilities within one Quoox account are not supported.
Select the classes you wish to offer
As a MZ-Remote+ subscriber, your facility is given access to the full suite of MZ-Remote+ classes.  By default, all classes are "opted in" and eligible for delivery to your members.
Through Quoox, you may quickly and easily select which shared classes you make available to assigned members.  To do this, select Settings > MZ-Remote+
Important: The first time you access the MZ-Remote+ settings page, Quoox will create a new "label" in Myzone Moves called "Quoox MZ-Remote Group".

It is this group that Quoox will assign to the members you wish to be able to access the MZ-Remote+ sessions. At this point, no members will have access to the MZ-Remote+ shared classes, as no members will have yet been added to the assignment group.

Do not delete this group. You should also manage the assignment of this group from within Quoox, not Myzone Moves.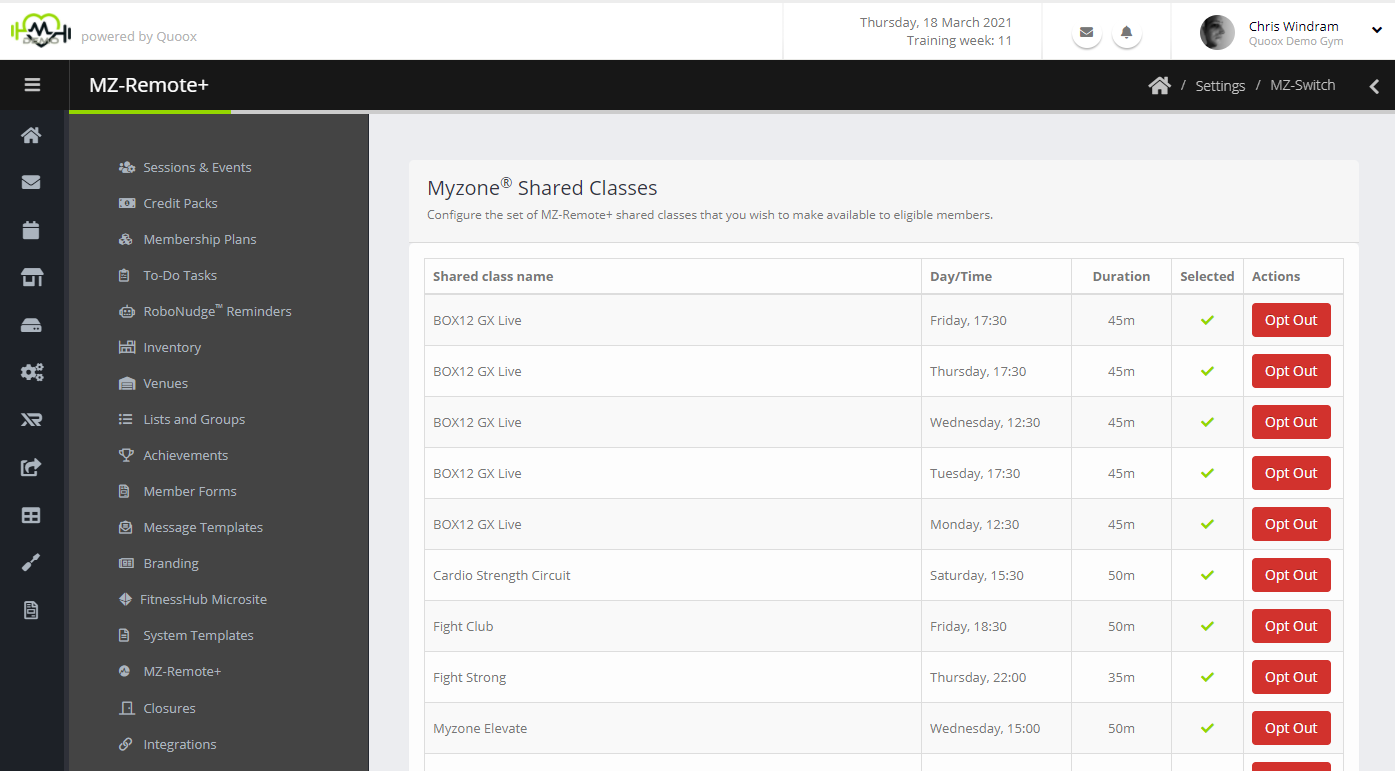 Upon accessing the MZ-Remote+ configuration screen, a full list of all shared classes will be displayed.
If you do not have any classes in your list, please check with your Myzone account manager that you have subscribed to MZ-Remote+ for your facility.
For each class, the information displayed comprises:
Shared class name – The name of the class (as assigned by Myzone)
Day/Time – The day and time at which the class commences
Duration – The duration of the class
Selected – Whether the class is presently included in your selection
Subject to the current selection status, a button will be provided for Opt Out or Opt In. Clicking the button will toggle the class selection status.
Note: It may take a few minutes for the timetable change to reflect in the Myzone app.
Assigning MZ-Remote+ shared classes to members
Quoox supports two primary methods of availing MZ-Remote+ classes to members, and gives facilities a wealth of options for how to offer and monetise this product.
MZ-Remote+ as part of a membership plan
You may add MZ-Remote+ to any (or multiple) membership plans.  A member is granted access to MZ-Remote+ if any of their active plans include MZ-Remote+
To add MZ-Remote+ to a membership plan, select the option on the Deliverables tab of the appropriate membership.

If you change the allocation of MZ-Remote+ to a membership plan that is already allocated to existing members, Quoox will initiate a background review of all members on the given plan and will allocate/de-allocate MZ-Remote+ access accordingly.  This process may take a couple of minutes, depending on how many members you have on the given plan.
Suggestion: As it is entirely up-to-you how you assign and monetise MZ-Remote+ with your members, Quoox makes it extremely easy for you to setup and sell a full "no-touch" online offering for your facility – founded on the MZ-Remote+, with the ability for you to optionally supplement it with your own classes.  Such memberships are easily promoted and sold using the Quoox campaigns functionality.
Allocating MZ-Remote+ to members on an ad hoc basis
As well as providing MZ-Remote+ to members via a membership, you may also allocate/revoke on an ad hoc per member basis.
To add/remove MZ-Remote+ to/from a member:
Go to the member record
Select MZ-Remote+ access from the Myzone drop-down button (top-right of the member record)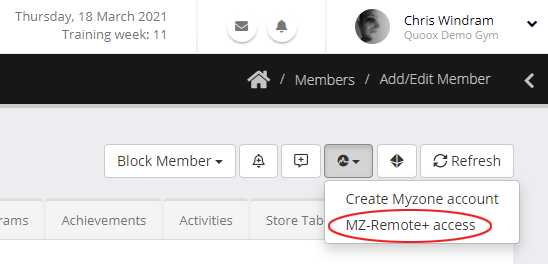 Quoox will query Myzone for the current member allocation status, and popup the MZ-Remote+ access control window:
If the member does not presently have an email address assigned, or is missing a Myzone belt ID, these will need to be added before you can change the member assignment status.
To manually grant access to a member, click the Permit access button.
To manually revoke access from a member, click the Revoke access button.  Note: If you subsequently add/remove a membership to the member this will enforce a re-evaluation of the grant status, and access may be re-instated if any of the assigned memberships grant access.  In this scenario, you may simply visit this screen and re-revoke the access.
Clicking Auto-determine will cause Quoox to evaluate the membership(s) assigned to the member and set the MZ-Remote+ access based upon these assignments.  This is the default mode/behaviour of the MZ-Remote+ functionality.
Reviewing a member's MZ-Remote+ access status
To review a member's MZ-Remote+ status, simply follow the instructions above, and the current status is shown in the popup window.