Quoox provides the ability to setup custom "journey points" that may be assigned to a member. These are great for tracking member progress and for grouping members based upon their progress.
Re-naming "Journey Points"
The label "journey points" is in itself configurable, and this may be changed if you wish to wish to call it something different (E.g., Member progress)
The journey point label is accessed within the Member Settings section of the main Settings.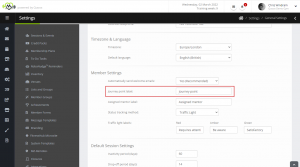 To change the wording for the label, enter your new preference against the "Journey point label" option.
Press the Save button to commit your changes.  The changes may take up to 10 minutes to take affect.
Configuring Journey Point options
The selectable options for "journey point" may be anything that you wish, and are wholly under your control.
To administer the options, go to Settings > Lists and Groups. Edit the list called "Journey Points".
Add your journey point options accordingly.  You may add as many options as you wish.
Hint: By default your options will be listed alphabetically.  To custom order your options, prefix your option with a number indicating the order of the item in square brackets. E.g., If your journey point was "On-boarding" and you wanted that option second in the list, you would add it as "[2] On-boarding".  Quoox will strip the prefixed number when it is shown in the app.
Assigning a journey point to a member
To assign a journey point to a member, select the desired option from the drop down list on the summary tab of the member record.
The journey point will be saved against the member automatically. There is no save button to click.