The Roll Call function within Quoox provides a quick-and-easy way to check-in your members at the start of a session. This works alongside (or as an alternative to) using using the check-in kiosk, or the "mark as [attended | no-show]" options on the session booking and appointment listing screens.
The Roll Call can be triggered by either selecting Roll Call from the popup menu on the scheduler (accessed by right-clicking on a session), or by clicking the button within either the session bookings or the appointments listing screens.

Conducting Roll Call
To conduct Roll Call, Quoox will take you through each attendee booked onto a session in turn. This applies to sessions of all types.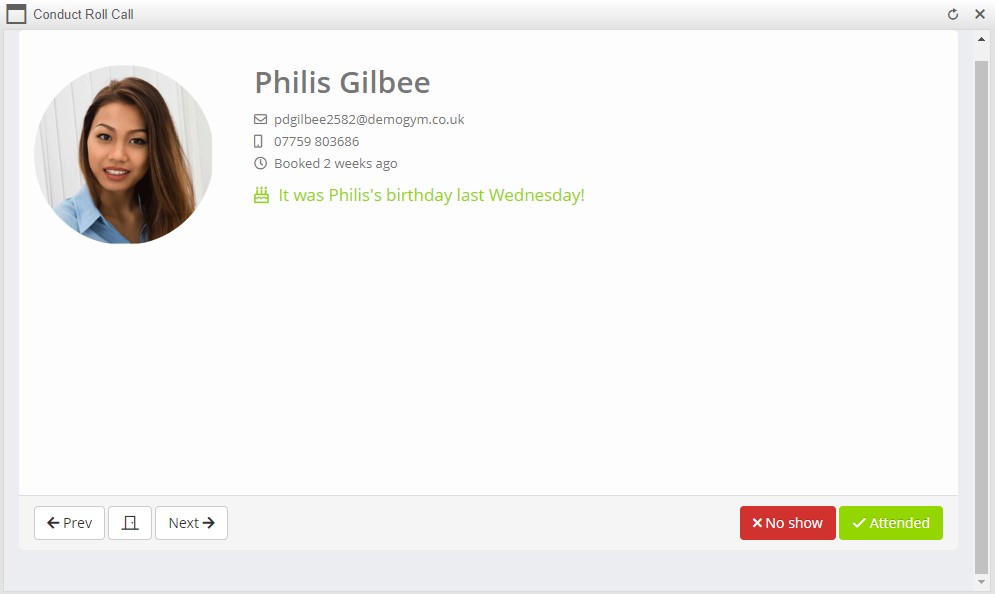 For each attendee, the information displayed will comprise:
The name of the attendee
A photograph of the attendees (if provided. Not applicable for leads)
The attendee's email address
The attendee's mobile phone number
How long ago the attendee booked the session
For a marketing/lead session:

The campaign for which the lead registered (leads only. Does not apply to regular sessions)
Any information that the lead provided regarding their training and fitness goals
If the member has had (or is due to have) their birthday within a few days of the session, this is flagged. Birthday burpees are a must!
Most importantly (for a regular session), if the member has injuries recorded, their injury details will be clearly displayed.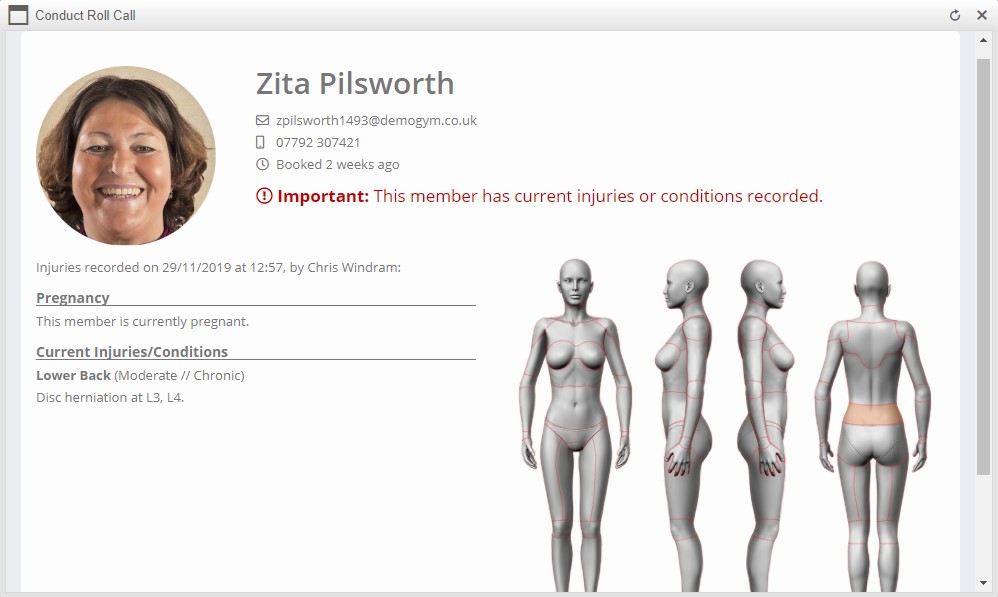 Notes relating to the injuries, medications etc. are all displayed alongside the anatomical mark-up diagram showing the locations of the recorded conditions. This ensures that trainers should never not be aware of a member's injuries when they train them.
Buttons are provided for:
Prev – Move back to the previous attendee
– Close the window and return to the screen from which Roll Call was launched
Next – Move onto the next attendee without updating the attendance status for the current attendee
Attended – Mark the attendee as having attended the session, and move onto the next attendee
No Show – Mark the attended as not having attended the session, and move onto the next attendee