MailChimp brings your audience data, marketing channels, and insights together so you can reach your goals faster. You can promote your business across email, social, landing pages, postcards, and more — all from a single platform.
By integrating MailChimp with Quoox, you will benefit from:
Your member lists being synchronised with MailChimp every night, or as you require
If you subscribe to the Quoox Library, you can push marketing material into MailChimp with a single click!
IMPORTANT: MailChimp only provide integration facilities to those customers with paid accounts. If you are using the free MailChimp offering, you will not be able to integrate Quoox with MailChimp.
To setup MailChimp with Quoox, follow these steps.
Step 1
Setup a MailChimp account at https://mailchimp.com.
All account levels provide access to the MailChimp API, so choose the level that is right for you. We recommend taking a paid subscription, as this provides you with greater functions and control over your branding.
Step 2
Select Account from the profile drop-down list in the top-right of the MailChimp interface.
Next, select API Keys from the Extras menu.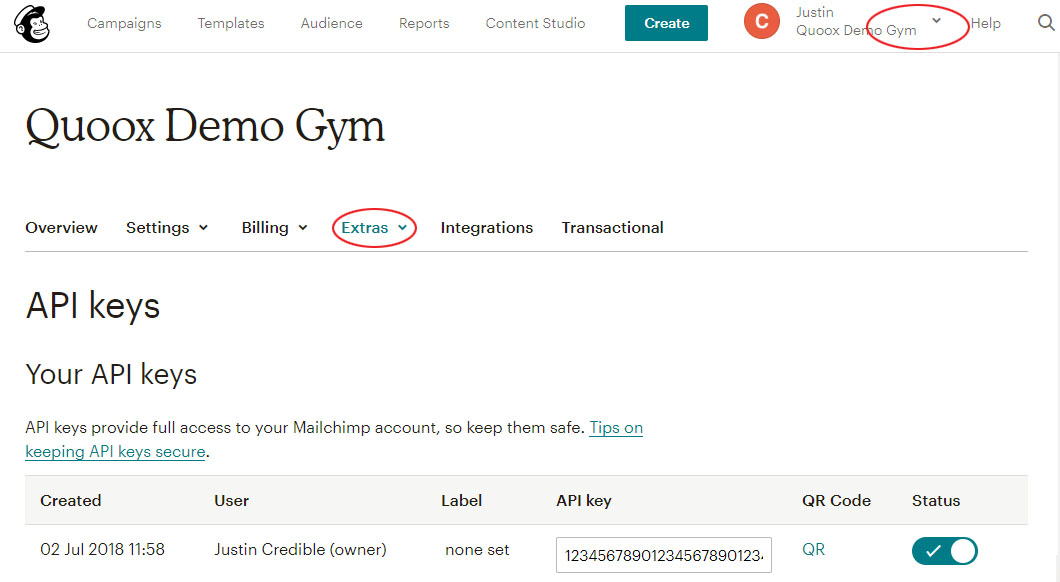 Step 3
Click the Create a Key button, and MailChimp will create a new API key for you.
Step 4
Copy the new API key from the "API Key" field into your clipboard.
Step 5
Access the Quoox Integrations page, by selecting Integrations from the Settings menu.
Locate the MailChimp API key section, and paste the API key (copied in step 4) into the API Key box.

Step 6
Make sure you click the Save button. Your MailChimp API key will be verified, and saved.
Quoox will now add the synchronisation of your lists to the overnight tasks, and you can now also easily sync Quoox Library mailshots into MailChimp.