Order alerts
When an order for a physical item is placed within the Quoox store in FitnessHub, an alert is raised.  The purchasing member is advised of their purchase reference, and they also receive an automated invoice.  Reference numbers are always of the format XXXXXXXX, where X is a capital letter or a number.
Orders destined for shipping are also highlighted in the dashboard FitnessHub Store Orders widget.

You may find an order within the list by entering the order reference, or expand the list to show orders destined for collection by ticking "Include collection".
Clicking the icon for a given order, will take you through the order detail page. Clicking View Orders will take you through to the full order listing.
Order Listing
The Order Listing page shows the full list of orders, displayed in reverse chronological order (i.e. most recent first).

The listing may be refined by entering an order reference and clicking the Filter button.
Clicking the icon alongside a given order will take you to the order detail page.
Order detail
The order detail page shows the full status and breakdown of a given FitnessHub order.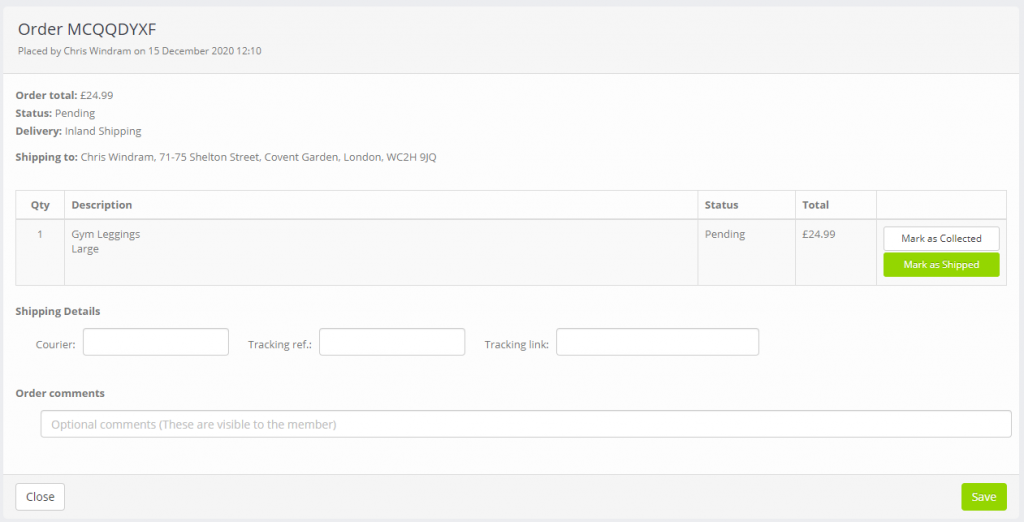 For each order, the following details are displayed:
Order reference
Member who placed the order
Order date/time
Order total
Order status (calculated automatically by Quoox)
Delivery method
Delivery address (if applicable)
A breakdown of the items that comprised the order are also shown.  Note: Postage costs are not displayed.
Electronic purchases (I.e. credits or memberships) are automatically allocated by Quoox within moments of the order.  Once issued, the status for these items is set as "Issued".
Physical items have the status "Pending", by default.  You may click the Mark as Collected or Mark as Shipped buttons against each item row to indicate that the item has either been collected, or has been dispatched.  Quoox will automatically update the order status.
You may optionally provide shipping details, such as the courier; tracking reference and tracking link. If provided, these are then made available to the member in their Order History page within FitnessHub.  You may also add optional comments.
When adding tracking information or recording comments, click the Save button to commit your entries.
Note: Quoox does not automatically send order status updates to the member. If you wish to send these, we suggest setting up some message templates to make this a quick and painless task.