No doubt you find yourself very often sending members the same (or similar) messages.
Quoox enables you to pre-configure as many message templates as you wish. You can then use these templates in the mail centre, to pre-fill both email and text messages.
If you subscribe to the Quoox Library, we also provide several useful templates for you to use or tailor. We will add to these templates from time-to-time.
You can access Message Templates under the Settings heading of the main menu.

Click on the Add button to add a new template, or the pencil ( ) icon to edit an existing template.
You can click on the icon to delete a previously created template.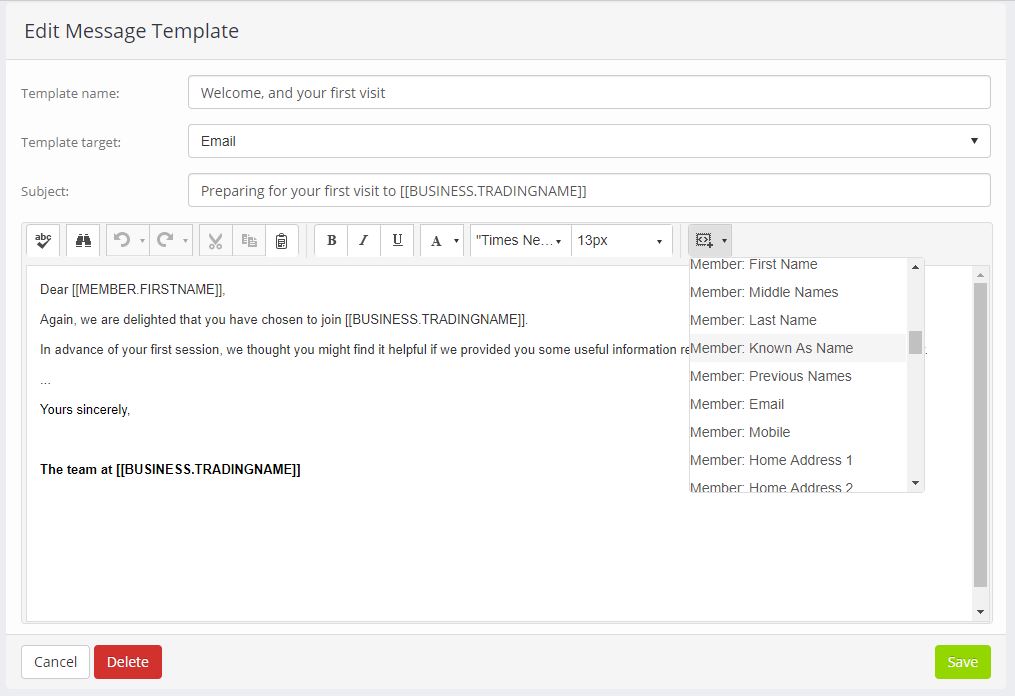 For your template, you should provide:
Template name – the name by which to identify this template (E.g. Your first visit)
Template target – whether the template is written for use in an email or SMS message
Subject – for emails only, the subject line that should be used
Content – the content for the email or SMS message
IMPORTANT: When creating an SMS message template you should not use any formatting, as this will be stripped. SMS messages support plain, unformatted text only.
TIP: Use fill-in fields to keep your template content generic. These fields will then be completed by the mail centre during the sending process.
Commit your changes by pressing Save. If you are editing a Quoox Library template, you may click Revert to return to the default Quoox Library version.