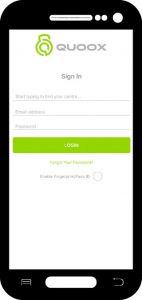 To log into the Quoox mobile app, you firstly need to have been registered by your centre. You cannot register yourself for access to the app. Only your centre can do this, so please contact them to get you setup.
To login, enter:
Your centre name (start typing, and then select the correct centre from the list that is shown)
Your email address (as registered with your centre)
Your password
If you do not know your password, or it hasn't been set yet, you can reset your password.
Once you have successfully logged in, you will be taken to the app home page.