You can update certain of your own profile details, as well as your profile picture (avatar).
To access your profile, select "My Profile" from your profile menu, in the top-right hand corner of the dashboard.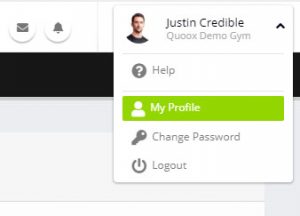 The profile editing screen will be displayed: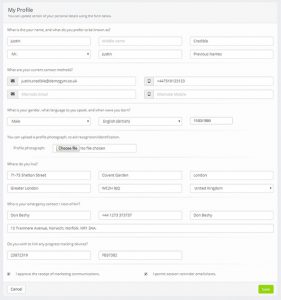 You can amend various details here, including your contact details; next-of-kin etc.
If you have a second email address (E.g. work), or mobile number, you can provide these alternate details here too. This ensures that, if you contact your centre from either of these numbers, you are correctly identified.
You can also upload a new profile photograph/avatar. We recommend that you use a jpg file, and that the picture comprise a clear, centred image of your face. This will help new staff members at your centre recognise you.
If you are a centre employee or manager, you can access the full member profile in the Member Management section of the management portal.
Note: If you change your profile picture, it may take a short while to change on your screen – depending on whether your computer/device caches images.
At the bottom of the profile screen, you can change your election to receive marketing message from your centre, and whether you wish to receive session reminders. If you opt-out of marketing messages you will still receive non-marketing messages from your centre and from Quoox – as this is essential to the provision of our service. However, you will miss-out on interesting articles and other information that your centre may wish to send you.