It is possible to edit a specific session by right-clicking on the session in the Schedule.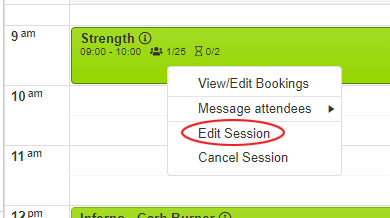 From the popup menu, select Edit Session. This opens the screen to enable you to edit that specific instance of a session, whilst leaving all other sessions unaffected. Note: You can only edit/cancel sessions that have not yet occurred.
Additionally, from the same menu, clicking Cancel Session will cancel that instance of a session. If the session has bookings, you should use the Message Attendee functions first to advise the members of the cancellation, prior to deleting the booking.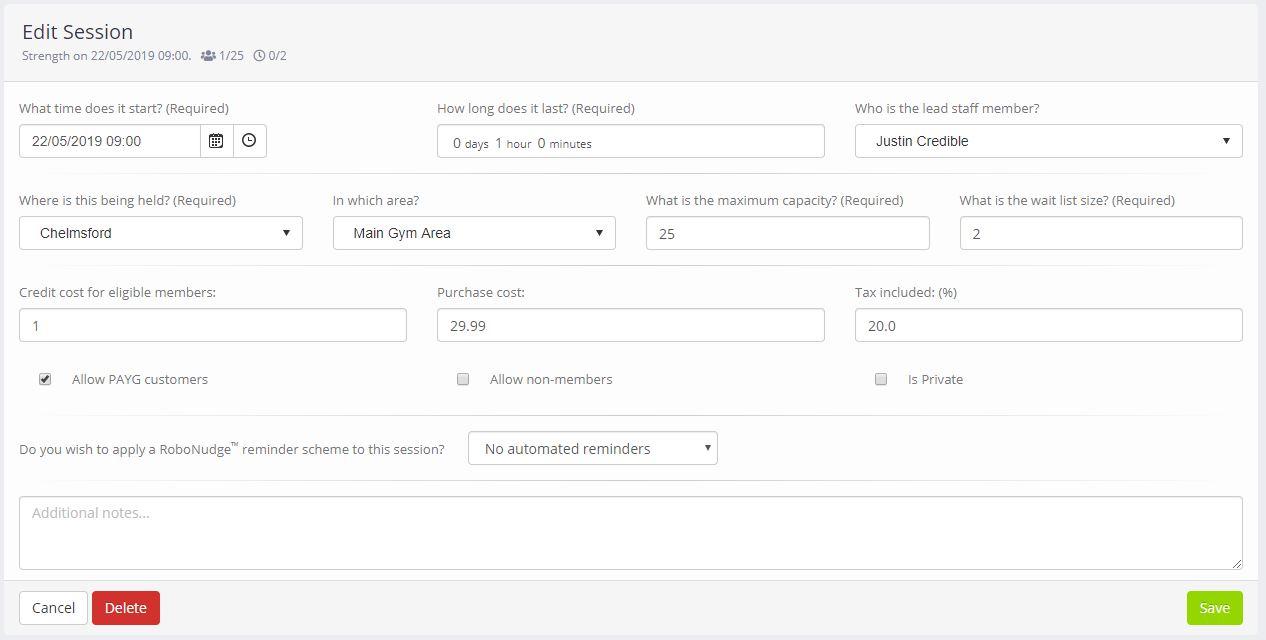 The Edit Session screen is very similar to that where you setup the original session definition. However, the information displayed is for the specific session that you selected.
You may adjust the session information without it affecting any other instances of the same session. So, for example, you could alter the capacity or price for a particular (high demand) session.
The session definition comprises:
Start time – the start time and date of the session
Duration – the length of the session in days, hours and minutes
Lead staff member – optionally specify the lead staff member assigned to this session
Venue – the venue at which the session is taking place
Area – the area within the venue where the session is being held
Maximum capacity – the maximum number of bookings to permit for this session
Wait list size – the maximum number of members to allow on the wait list, once the session is full
Credit cost for eligible members – the cost (in credits) for members wishing to book the session
Purchase cost – the cost (in your currency) for pay-as-you-go customers wishing to book the session
Tax included – the percentage of tax included in your purchase cost
Allow PAYG customers – whether pay-as-you-go customers are allowed to book the session
Allow non-members – whether members without a current membership agreement may book the session
Is private – when checked, the session is hidden from the Quoox mobile app and web portal for all members except those who are booked on the session
Do you wish to apply a RoboNudge reminder scheme to this session? – Optionally select one of the session reminder schemes that you have setup to be run for this session
Additional notes – any additional information that you wish to record for the session
IMPORTANT: If you already have members booked into a session that you alter, consider if you need to contact them to advise them of the change you are making.