With Quoox, you can configure multiple RoboNudge reminder schemes, comprising as many different reminders as you wish. It's totally up to you how you configure your system.
We recommend that you typically send members a reminder a day-or-so before a booked session. This will increase the chances of the member remembering to attend, as well as reduce late cancellations. Furthermore, it establishes a good communications strategy with your members.

To setup your session remainder schemes, select RoboNudge Reminders from under the Settings heading on the main menu.
Click the Add button to add a new reminder scheme, or click the pencil ( ) icon to edit an existing scheme. Clicking will delete a reminder scheme, and remove it from all forthcoming sessions, classes and popups.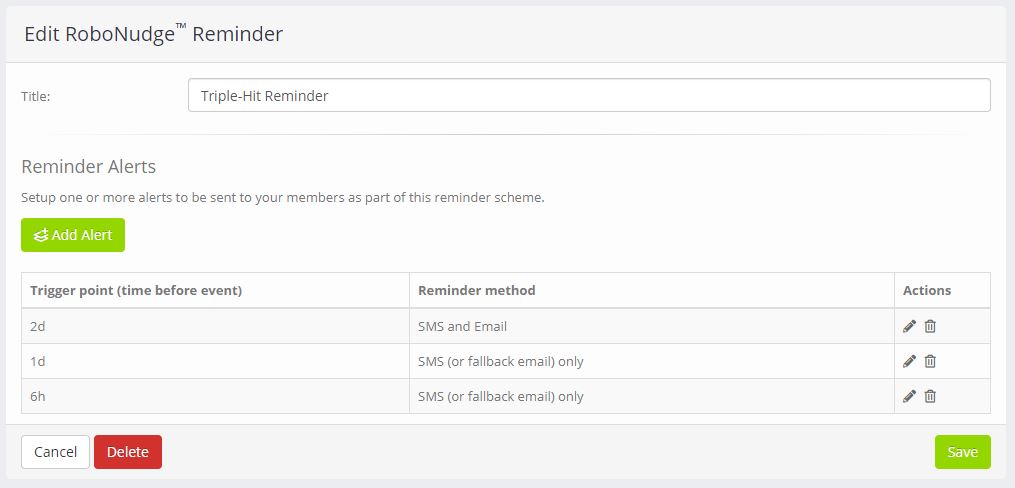 You must provide your reminder scheme with:
Title – a name by which the scheme can be recognised (E.g. Basic single reminder)
Clicking the Add Alert button will enable you to create a new alert in your scheme. Additionally, for existing alerts:
– Edit this alert
– Delete this alert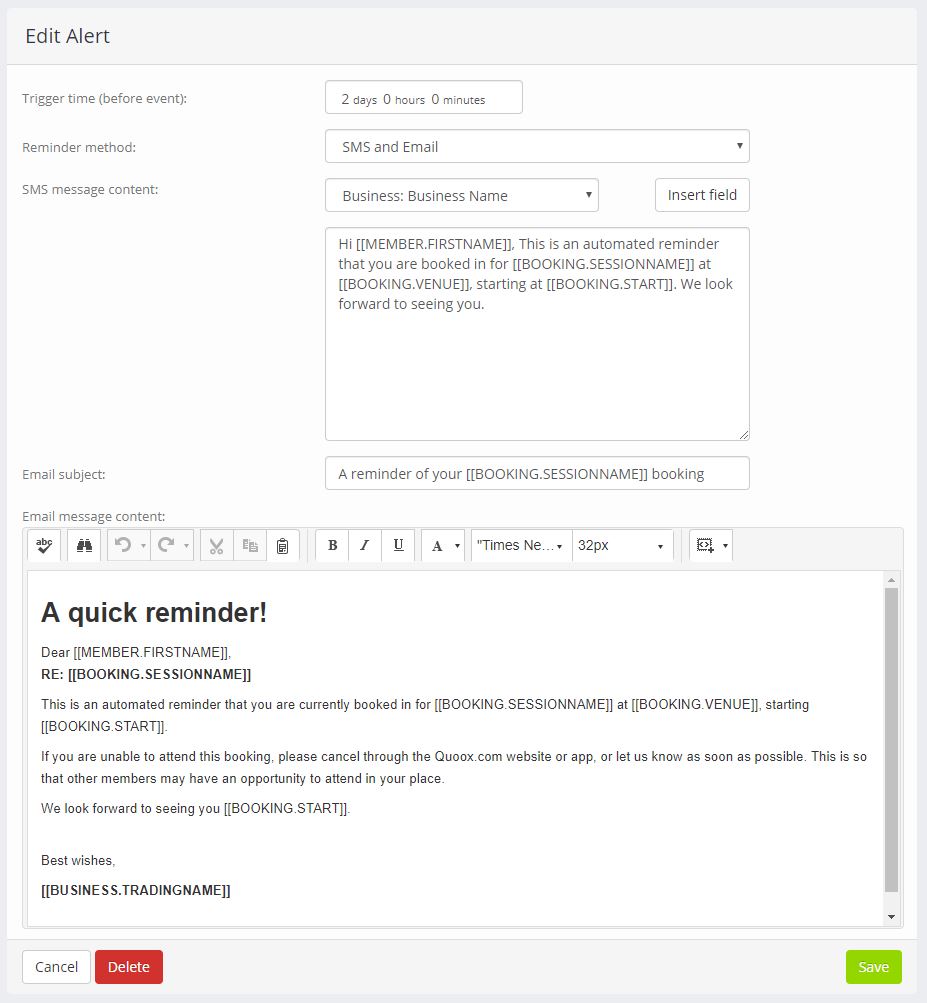 For each alert you configure, you should provide:
Trigger time – the point in time prior to the event that the alert will be sent.
Note: Quoox will apply smart-send timing to these alerts, avoiding sending messages in anti-social hours
Reminder method – The method by which you wish to send the alert. Email, SMS and/or both.
SMS Message content – If you selected SMS as the reminder method, this is the message that shall be sent.
Email subject – If you selected email as the reminder method, this is the reminder email subject line
Email message content – If you selected email content as the reminder method, this is the reminder email body content
To commit your changes, click Save.
Once you have created a reminder scheme, you may then assign it to sessions. This may be done either by editing the session definition, which will then apply the scheme to all sessions of that type, or by applying it to individual sessions one-by-one.