Members can view their personal documents, as well as any library files shared with them via the Quoox mobile app.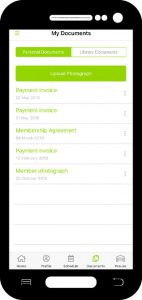 To view documents, select Documents from the main menu.
By default any personal documents to which you have been accessed will be displayed. You can also click on Library Documents to access any library files that have been shared with you by your centre.
To view a document, tap the document of interest. The document will then be downloaded and opened in the appropriate app on your device.
Uploading a photograph to my account
If enabled by the centre, it is possible for members to upload photographs to their account. For example, a centre may ask members to provide photos of their food, to help with motivation and keeping people on-track.
To upload a photo, click the Upload Photograph button.  You may then either take a new photo, or select an existing image from your library. Before uploading your photo, provide a caption so that you centre knows what they're looking at!
Deleting a document from my account
You can delete any documents that you have uploaded to your account, and where an icon is displayed.
In iOS, left-slide the row you wish to delete. Click the Delete button.
In Android, long-hold the row you wish to delete. A Delete button will appear in the top bar. Click the button to confirm the deletion.