Until 21 June 2020, Quoox forced facilities to record at least one member payment card when using a Direct Debit.  Following customer feedback, this requirement has been relaxed.

Whilst no longer mandated, we still strongly recommend that a payment card is recorded for members with Direct Debits. This provides fallback charge method in the event of a member cancelling their mandate.
Setting up a membership payment method
The membership payment setup screen within Quoox is displayed below: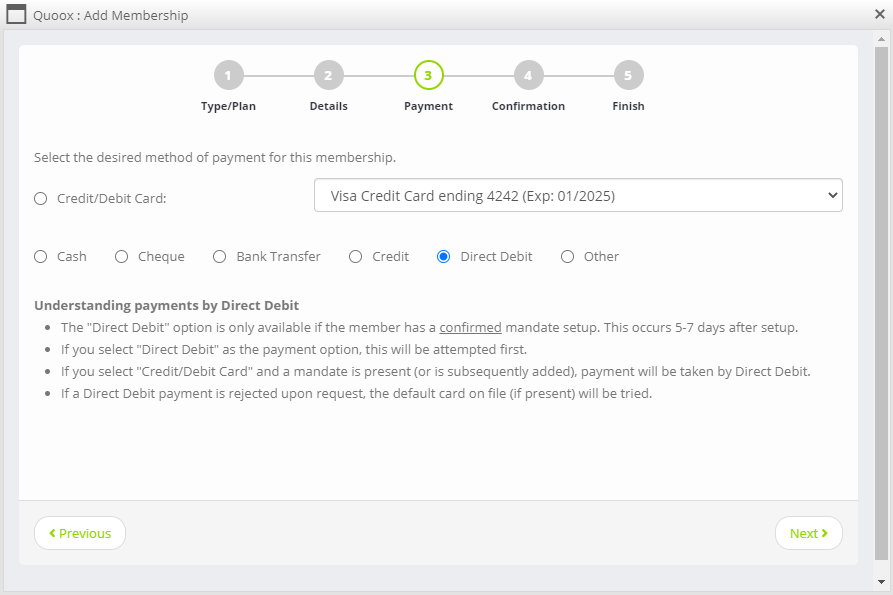 The screen allows the selection of the payment method that is used for initial purchase, and for subsequent recurring charges.
There are several simple payment rules to understand:
The "Direct Debit" option is only available if the member has a 

confirmed

mandate setup.
Once a mandate has been added to a member, it typically takes 5-7 days for the mandate to be processed, setup, and confirmed as being active.  Only once Quoox has received confirmation from GoCardless can the mandate be charged.
If you select "Direct Debit" as the payment option, this will be attempted first.
If you select "Credit/Debit Card" the first payment will be taken from the selected card.
For recurring payments, if a mandate is present (or is subsequently added), payment will be taken by Direct Debit. If a mandate is not present, payment will be taken from the default card on the member's profile.
If a Direct Debit payment is rejected upon request (E.g. the mandate has been cancelled), the default card on file (if present) will be tried.
Direct Debits are only charged for membership payments, and are used in preference to a credit/debit card for recurring payments – at which point the card becomes the fallback payment option.
The status of a Direct Debit payment can be found on the member's activities tab.
Payment options for a new member
If you are setting up a membership for a new member, it is likely that their mandate has not yet been setup and activated.
In this scenario, add the member's payment card and select "Credit/Debit Card" as the payment option. The first payment will be taken by card and then, once a mandate is confirmed, this will be used instead of the card for future recurring payments.
This process ensures that you get payment for the first period of the membership before you start issuing services.