The member profile Details Tab is where the majority of the contact information for a member is to be found.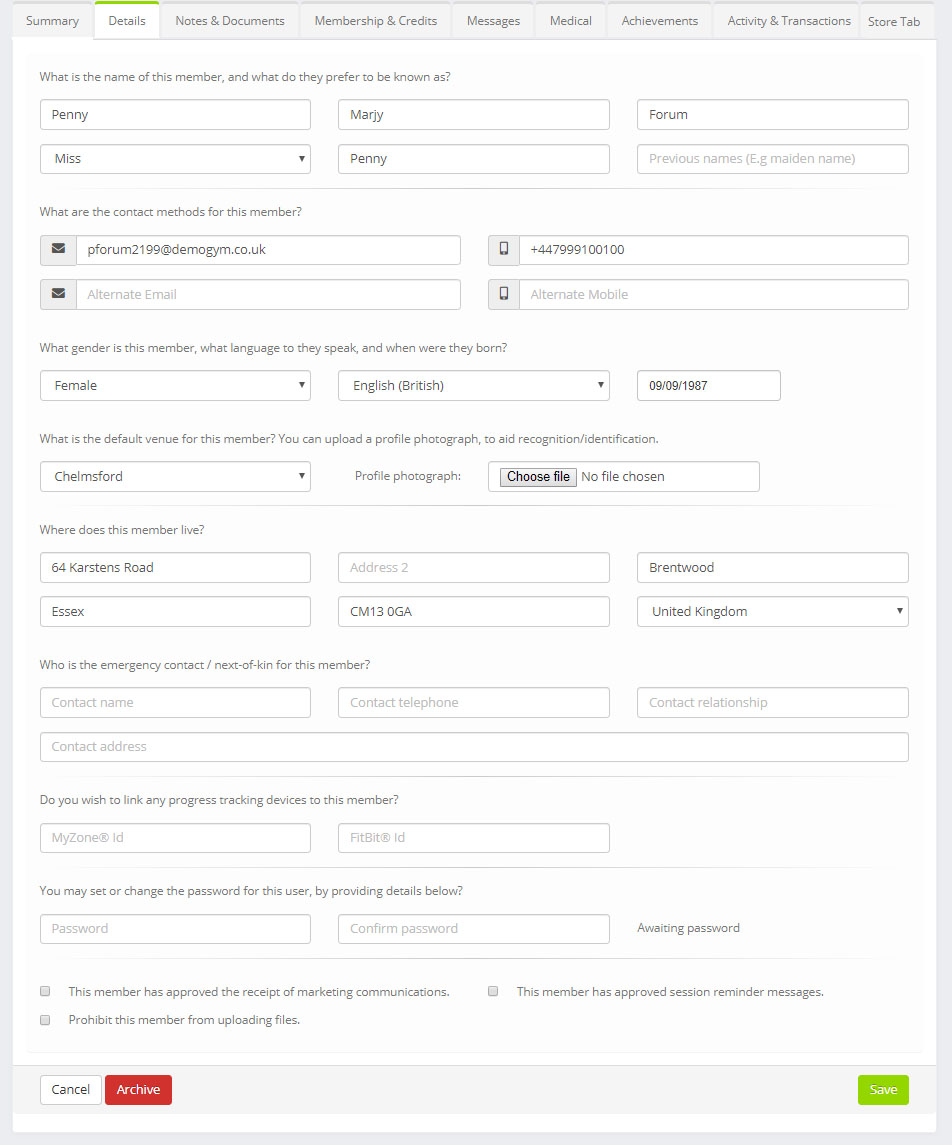 Contained within this profile are:
Member name – provide the member's name. You may optionally also provide any nickname or previous names. These names are all searchable, and helps you find members that have recently changed their name (due to marriage etc.)
Primary email and mobile – You must provide a primary/preferred email address and mobile number for contacting the member. These will be the addresses to which emails and SMS messages sent through the system will be delivered.
Alternate email and mobile – You can optionally specify an additional email address and mobile number for a member. This might, for example, be their work contact details. Adding these details means that, if they email/text you from these alternate addresses, the messages are still recognised as being from them.
Gender – The gender setting is used to ensure the correct anatomic diagram is displayed on the Medical tab.
Language – This will provide extra options in the future for tailoring the language in which Quoox is displayed to the member.
Date of Birth – By adding the member's date of birth, you can see their birthday appear in the dashboard – helping prompt an engagement that is always appreciated.
Default venue – The default venue for this member. The member may also set this themselves, and it tailors the sessions schedule displayed to them in the mobile apps and member web portal.
Profile photograph – All members should be encouraged to provide a member photo, which is used as their avatar. You may upload an image here (which Quoox will resize), or the member can provide their own via the mobile app.
Address – The member's home postal address.
Emergency Contact – Details of an individual that may be contacted in the event of an emergency relating to this member.
Fitness devices – Optionally record the ID of fitness devices used by the member. This will be used later for data synchronisation.
Password – You may optionally set the password for the member. They may also change this themselves with the mobile app or member portal at any time. You are not able to see what a password is currently set to. This is stored within Quoox as one-way encryption, and is not visible to Quoox personnel either.
Marketing approval – For GDPR purposes, the member should approve of marketing communications. If the member is opted-out, their details will not be exported to MailChimp or ActiveCampaign. However, you may still send them communications relating to the provision of their membership.
Session reminder messages – Members may opt out of receiving session reminder messages. If this box is ticked, the member will receive any RoboNudge reminder messages you have configured.
Prohibit this member from uploading files – If you have enabled the system wide photo upload option for members, you can check this box to remove the upload function from this member. You may wish to do this if a member is found to violate the rules surrounding content upload.
To commit the changes, press the Save button.
IMPORTANT: Each tab operates independently. If you change tab without saving your changes, your changes will be lost.