You can view your centre's schedule and book using the mobile app, by selecting the Schedule option from the main menu.
Use the icon (in the top bar) to change your default/preferred venue, as you wish.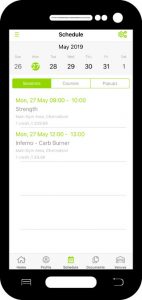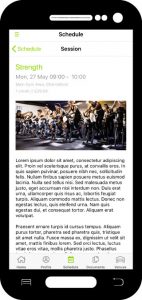 You can navigate the schedule dates by scrolling the calendar left-and-right.
Additionally, you can choose whether to view scheduled sessions/classes; courses; or popups. Sessions/classes will be selected by default.
Any scheduled events matching your criteria will be displayed, including the session status. This will enable you to easily see if there are presently spaces, or if you are already booked on the session/class.
To view further information about a session, tap on the class of interest.
From the session information screen, you can see all of the details relating to the session – including the timing, cost, location etc.
To book on the session, click the Book this Session button.
Follow the on-screen prompts, subject to whether you wish to pay using credits, or pay by card.