From version 1.4 onwards, the Quoox mobile app contains functionality to link family members, and to make it easy for parents to manage their child(ren)'s gym accounts.
If you are a family unit, your gym/studio will set you up as a family within Quoox.  This will add a new tile "My Family" within your My FitFile section of the Quoox mobile app. Clicking on the tile will list the members of your family (including you).
You can click on any family member (except yourself), and see a list of the forthcoming sessions in to which they are booked. You can then further click to view the session details and to either book or cancel yourself on that same session.
When you click on the name of one of your children, above their session listing you will have an additional Log in as… button. Clicking this button will, after confirmation, log you into the Quoox app as that child.
Once logged into the Quoox app as a child, it is the same as had you logged in directly.  You can use any of the app functions as if you were the child.  This includes booking and cancelling sessions.
Note: If your child has been setup with payment to be made by either you or a co-parent, then the credit/debit card payment options presented will be those of that parent.  You cannot add a new card to a dependant account, but adding it to the parent account will make it available to the child.
To return to your own account, select the Revert to my own account option from the master burger (☰) menu.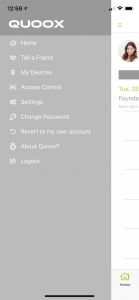 Booking a session for my child
To book a session for your child you have two options.
1. If you are not booked onto the desired session yourself, you can find the target session in the schedule in the normal manner and click through to the details. Click on Book this Session. You will now be presented with an additional option, where you may select the family member for whom you wish to make the booking: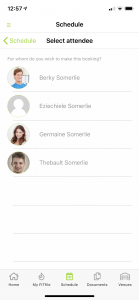 You will then be taken through the booking process as that child, and they will be booked onto the session.  The payment options displayed during the booking process are those setup against the child, and will be your own/your co-parents details if so-configured.
2. An alternative method (and the one to use if you are already booked onto the same session onto which you wish to book your child), is to assume the identify of the child and use the Quoox app as if you were them.  You can do this using the methods outlined above.
Cancelling my child's session
To cancel your child's session, or to view any other information for/about them, you should login the Quoox app as them.  You can do this quickly and easily within the My Family section of My FitFile, as outlined above.  To revert to your own login, select Revert to my own account from the master burger (☰) menu.