A new hook may be added by clicking the Add Hook button on the campaign hook listing. Alternatively, an existing hook may be edited by clicking the icon alongside it.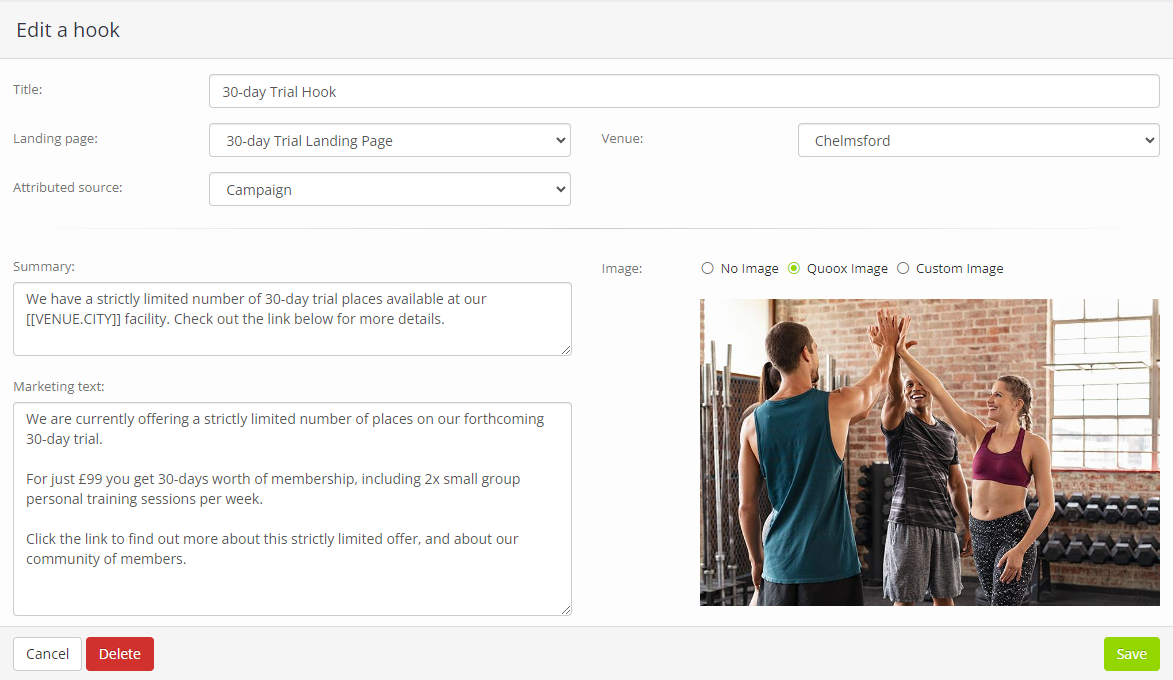 For each hook, the following information may be configured:
Title – the title to give the hook. This is displayed on some social media platforms
Landing page – the landing page to which this specific hook should route people clicking the link
Venue – the default venue to which this hook relates
Attributed source – where the hook is sourced from
Summary – a concise marketing text. This is used by some platforms, such as Twitter. Your landing page URL will be automatically suffixed.
Marketing text – a longer piece of marketing text, written to encourage people to click the link. This is used by platforms such as Facebook. Your landing page URL will be included as a link automatically.
Image –

No image – do not publish any image with this hook
Quoox image  – use the Quoox image generated for this hook (pre-written hooks only)
Custom image – upload your own image (ideally in a 2:1 format, and less than 1Mb) for use with the hook post
A Reset button is displayed for pre-written hooks, which allows you to revert to the Quoox originated content.
Pressing Save will save your changes, and Cancel will abort. Delete will delete the hook permanently.