Ensuring that your staff/employees remain in-the-know for important information can be a laborious task. Quoox makes this much easier by enabling you to post messages on the Staff Noticeboard.
The noticeboard is displayed as part of the employee/manager dashboard:

Messages remain highlighted until they are read, and important messages can be flagged accordingly.
Any staff member may post a message to the noticeboard, either by clicking the icon within the noticeboard, or by clicking the corresponding icon within a member profile. Both buttons perform identically, except that the button in the member profile auto-links the given member to the notification. This can be useful when sharing information regarding a particular member.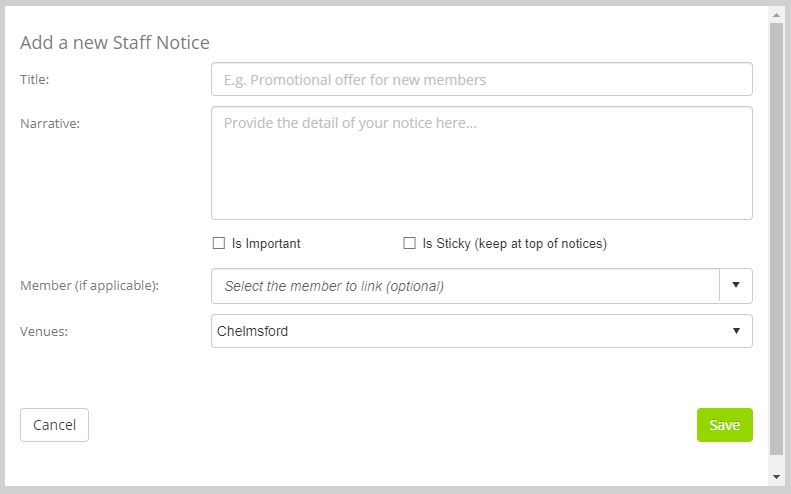 In creating the new notice, you should provide:
Title – A brief summary headline for the notice (E.g. Advisement of injury for member Bev Ridge)
Narrative – The description/information that you wish to convey
Is Important – Ticking this box adds the "important" flag to the notice, to help bring it to staff attention
Is Sticky – Ticking this box will ensure that the notice remains at the top of the list
Note: Having too many 'sticky' notices will result in a cluttered noticeboard, so should be reserved for the most important notice only
Member – If you launched the dialog from a member profile, this will be pre-filled. Otherwise, you can optionally select a member with whom you wish to associate this posting
Venues – Select the venue(s) for whose employees you wish this notice to be displayed. Your primary venue will be selected by default.
Clicking Save will commit the notice, and it will start being displayed to employees.
Additionally, for each item on the noticeboard:
– displays the post for reading
– will allow you to edit the post (available only if you were the originator, or you are a manager)
– will allow you to delete the post (as above)