Quoox provides two different reminder types:
A general reminder, which may be in relation to pretty much anything
A member-related reminder, in which the reminder is linked to a specific member
Creating a member-linked reminder
To create a reminder linked to a specific member record, click the 'Actions' button located at the top of the relevant member record.

Once 'Actions' has been clicked you will see a list of options. You want to click on 'Add a task/reminder'

As with a general reminder, this will open the reminder configuration dialog as below.
Configure your reminder
The reminder configuration dialog provides you the mechanism to configure your reminder: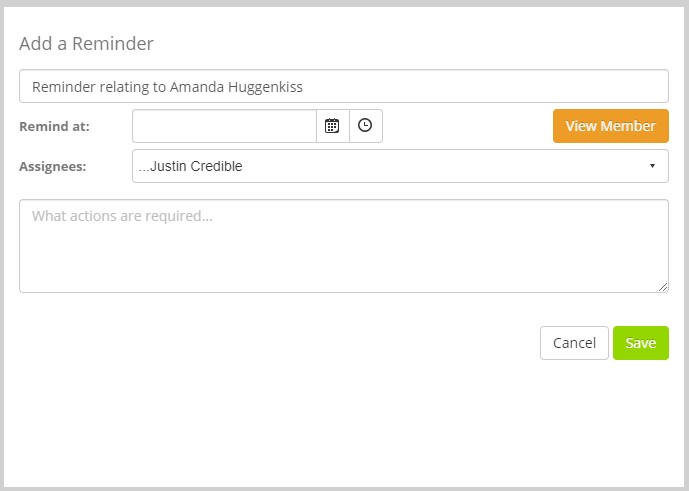 Depending on how you initiated the reminder creation, one or more fields within the dialog may already be completed for you.
Information requested includes:
Title/Name – the name to give the reminder, so that you may identify it
Remind at – the date/time upon which the reminder should occur
Assignees – the group of employees or employee to whom the reminder should be assigned. By default this will auto-set to be for you.
Actioned required – further details outlining the actions that are required pertaining to this reminder
Viewing your reminder(s)
At the time of the reminder, an alert will be raised and displayed in the top bar of the portal.  Additionally, your reminder will become visible in the Assignments / To-Do Tasks widget on your dashboard.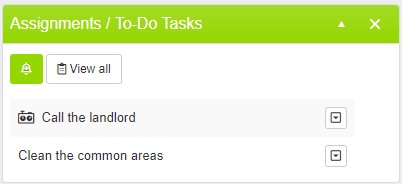 A context menu is provided alongside the reminder, accessed by clicking .
For reminders, the options comprise:
View Details – View the details of the reminder
Go to Member – For member-linked reminders, you can jump to the member record
Mark as…

…Pending – Mark the reminder as pending action
…In Progress  – Mark the reminder as being currently progressed
…Completed – Mark the reminder as having been completed
Additionally, you can view the full list of assignments, to-do's and reminders by clicking the View all button.