AutoBook™ is a function that enables you to automatically book members onto sessions at the point the session is created.
This is especially useful for, say, 1-on-1 sessions and for VIP members. Examples:
Where you have a member who always attends the same 1-on-1 personal training session
Where you have a group of family members who are always keen to attend the same session
Automatic (or recurring) bookings are setup on the Membership & Credits tab of the member record: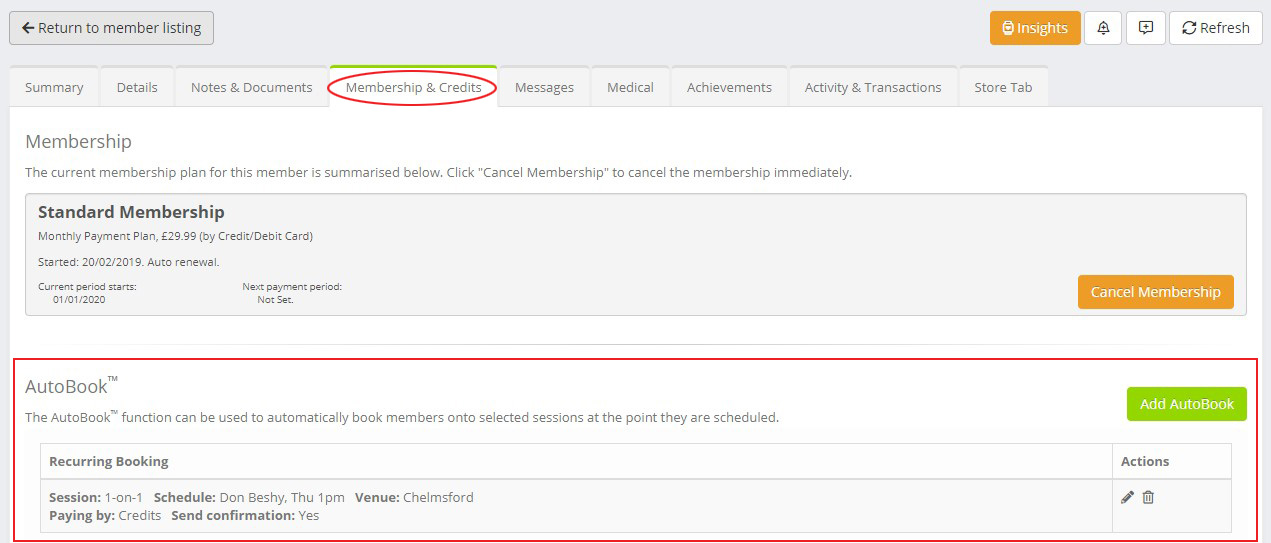 To create a new AutoBook record, click Add AutoBook. Click to edit an existing record, or to delete one.
The add/edit form is shown below:

The form comprises:
Session – select the session type for which you wish to create the auto-booking
Venue – the venue at which you wish to auto-book the member
Day – the day of the week  on which the auto-booking should occur
Session time – the time of the session upon which you wish to auto-book the member
From date – the earliest date upon which the auto-bookings should commence
To date – the last date upon which the auto-bookings should be created
Payment Method – the method of payment that should be used for the auto-booking
Send booking confirmation  – whether the member should be sent the regular booking confirmation email
Points to note
There are a few points that it is useful to know:
When  you create a new automatic booking that spans dates of existing sessions, the member will be booked onto these sessions. Duplicates are not created, if they're already booked. You can avoid this by setting the "from" date.
When you edit an AutoBook record, it does not effect bookings that have already been made. AutoBook is only run when sessions are created in the daily processes, and it is only at that point that the bookings will be created.
If you have an AutoBook record that requires payment by credit/debit card, this payment will be taken at the point the booking is made. If the payment is declined, an alert will be raised and the booking will not be placed.  The same applies if the member does not have sufficient valid credits.
AutoBook/recurring bookings are guaranteed bookings. If you create more AutoBook records than there is theoretical space on the session, the members will be booked and the session will become over capacity. Members are always added as confirmed bookings, and are not added to the waitlist.
Members are booked onto all sessions that match the auto-booking criteria. Therefore, if you had two identical sessions starting at the same time, at the same venue, the member would be booked onto both.  Obviously this is an atypical situation.