Scheduling Zoom sessions through Quoox is quick and easy.  However, from time-to-time you may find that a period of maintenance at Zoom (scheduled or otherwise) prevented your session or bookings from being successfully processed.  This is the scenario in which Quoox raises an alert(s) to advise that a Zoom meeting/booking could not be created.
Within the Quoox booking screen it is possible to see the status of your Zoom sessions, and the participants on those meetings.

The Zoom meeting ID is displayed in the top-left hand corner of the session.  Alongside each booked member is an icon that is coloured either green or orange to show at-a-glance whether they are successfully booked onto the Zoom sessions.
A couple of points to remember about Zoom sessions:
Quoox only creates the Zoom meeting when the first participant books on.  This is to avoid clogging-up Zoom with unused meetings.
Quoox can only schedule Zoom meetings and book participants up until the time of the start of the meeting.
Only those attendees who have confirmed slots on the session are booked onto the Zoom meeting.
An example screenshot showing when a Zoom meeting has not been created and a participant not booked on is shown below.

The fact that the meeting ID is missing is highlighted in red, and the video camera icon is orange instead of green.
Re-syncing a session with Zoom
If you have had alerts that Quoox has not been able to create a Zoom meeting, or to book a participant, you may instruct Quoox to re-attempt the synchronisation with Zoom.
To do this, select Re-sync with Zoom from the More Actions drop-down menu.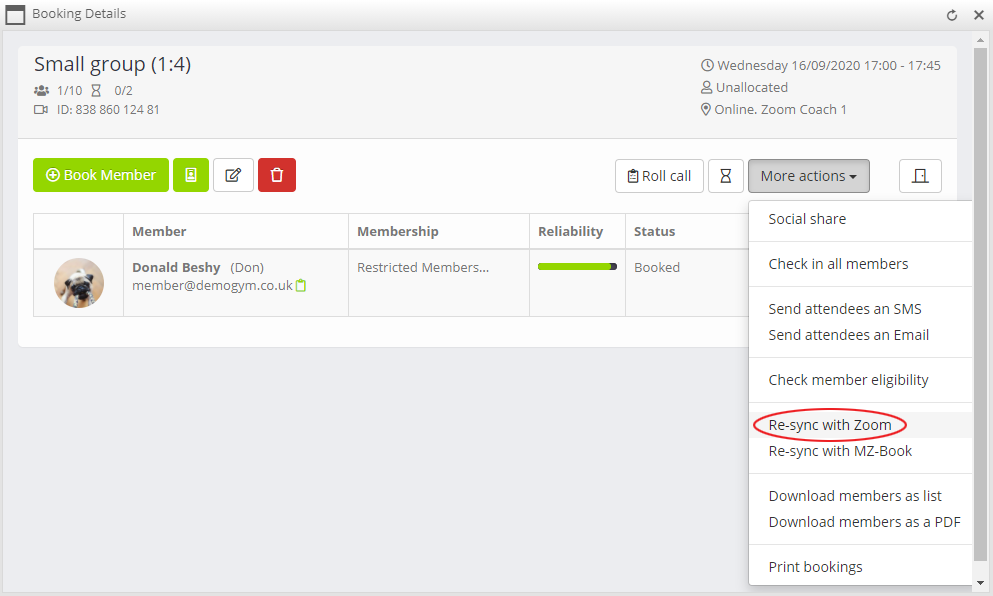 This will trigger a background process that will attempt to i) create the Zoom meeting, if it doesn't exist and ii) add any booked participants that are not already registered for the Zoom meeting.  This may take up-to-a minute, so you will not see the outcome of the re-sync until you re-open the booking window.
Note: Re-syncing with Zoom does not trigger the sending of any emails to members.  Also, it does not update MZ-Remote/MZ-Book (if in use).
MZ-Book can be re-synced from it's own More Actions menu option, if necessary.  Individual members can be resent the joining instructions by selecting Send Member… Joining Instructions from the Select drop-down next to the given member.
In the event that the Zoom meeting still cannot be created, or the participant still cannot be booked, please contact Quoox for further diagnosis.