Xero recently updated their integration processes to the new process outlined below. We have re-written our Xero integration to work with this new process. This makes it much easier to link your Quoox account with Xero, and eliminates the technical elements of the previous setup. If you require details of the previous process, click here.
Xero is an online accountancy solution for small-to-medium sized business. It is extremely user friendly, has wide adoption and integration with banks, and is integrated with Quoox.
By linking your Xero account with Quoox, we are able to record financial transactions in your accounting system in real-time. This saves you both time and money, as well as providing you a solid overview of your financial position at any point.
To integrate your Quoox system with Xero, follow these steps.
Step 1
Setup an account with Xero at https://xero.com/
Choose the plan that suits you. The system is typically available for you to use within a few minutes.
Note: Before you integrate your Xero system with Quoox, you should complete all of the Xero setup steps first, and ensure you have Xero configured to your liking/needs.
Step 2
Go to Settings > Integrations, and find the Xero section.

Click the "Connect to Xero" button. This will take you to the Xero login screen.
Step 3
Log into Xero. Select the Xero organisation that you wish to link to Quoox, and confirm & approve the questions presented by Xero.
Step 4
Once you have completed the Xero login and approval, you will be taken back to the Xero section of the Quoox integrations page.  You will see an indicator confirming the connection to Xero, plus some additional configuration boxes.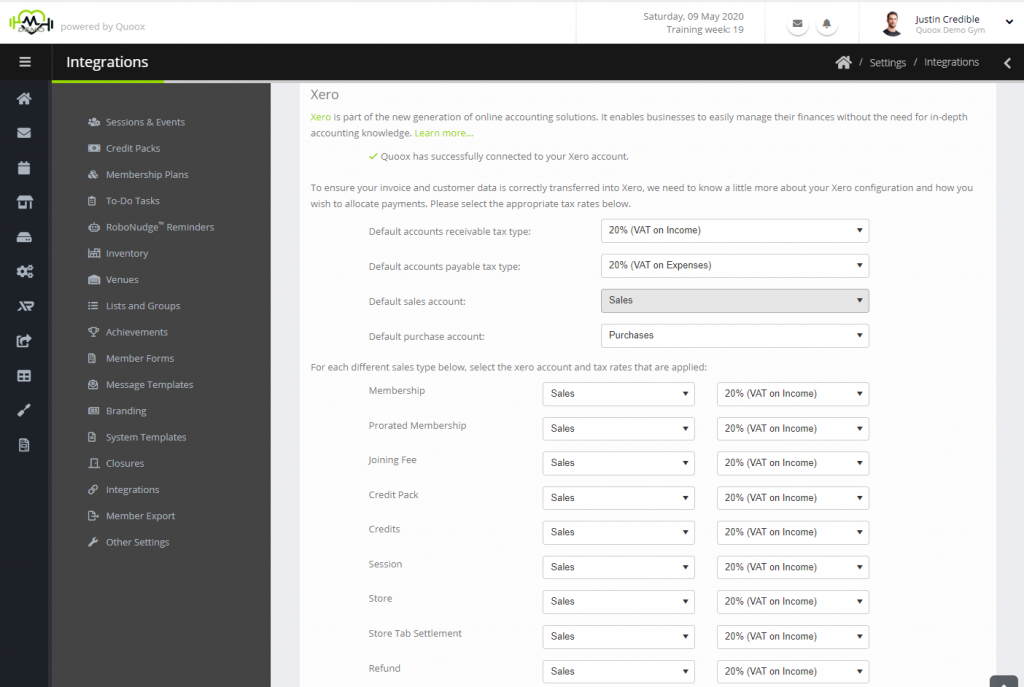 You can typically leave these as the defaults, but you may wish to tailor how invoices are allocated within your Xero system. You should ensure that the account and tax coding is set correctly for each item.
Step 5
Press the Save button to confirm your configuration. From this point onwards, Quoox will now sync new transactions with your Xero account. It will create the corresponding customer record, and the necessary invoice/credit note record.
Walk-in sales will be recorded under a single "Walk In Customer" record, as it's not possible to attribute these to a specific individual.
IMPORTANT: In compliance with tax accounting rules, Quoox will create transaction records in Xero corresponding to your transactions in Quoox. These will comprise both invoices and credit notes (for refunds). Please note that the invoice will be created at the value charged, and that you will need a separate transaction to fully reconcile the monies you actually receive from Stripe and GoCardless.
We have provided some guidance regarding reconciling your Stripe payments.