From within Quoox it is possible to send a Scheduled Broadcast to your members (or a sub-set of members).
This is a really handy tool for communicating with a group of members about a particular topic. Perhaps, for example, they are on a particular fitness plan, and you wish to send them a motivational message.
Note: The scheduled broadcaster is designed for sending message to up to circa 250 members. Beyond that we recommend that you use a marketing tool such as MailChimp or ActiveCampaign for your message. Quoox integrates with both, and we suggest this as both have mechanisms in place to reduce the chance of their email addresses being blocked as "spam".
To setup a scheduled broadcast, select Scheduled Broadcast from under the Connect and Promote heading on the main menu.

To setup a new broadcast, click Schedule Email, Schedule SMS, Schedule Immersive Email or Schedule Push Alert depending on your desired delivery method.
If you wish to amend or delete and existing broadcast, use the and icons respectively.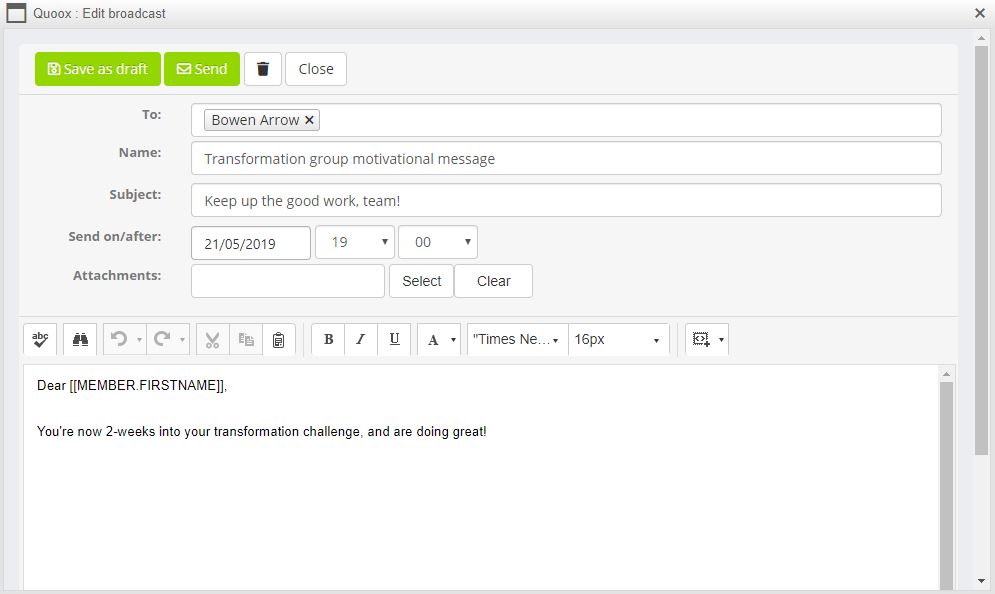 Configure the recipients for your broadcast. This can include one or more members, and member groups.
You should give your broadcast a meaningful name and select the date/time at which you wish it to be sent on (or soon after).
For email broadcasts you should also provide a subject line, and can optionally add one or more attachments.
Note: If the item you are sharing comes from the Quoox Library, simply share the file and it becomes available to your (selected) members via the Quoox mobile app.